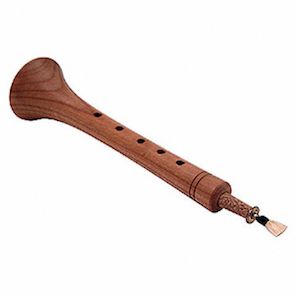 Zurna
The Zurna (pronounced zewer-na), like the duduk and Kaval, is a woodwind instrument used to play Anatolian, Middle Eastern and Central Asian folk music. The zurna is a conical oboe, made from the fruit tree Apricot (Prunus armeniaca), and uses a double reed which generates a sharp, piercing sound. Thus, it has historically been played outdoors during festive events such as weddings and holidays. It has 8 holes on the front, 7 of which are used while playing, and 1 thumbhole which provides a range of one octave.
It is similar to the Mizmar. Zurnas are also used in the folk music of the countries in the region, especially in Iran, Israel, Afghanistan, Iraq, Kurdistan, Assyria, Turkey, Armenia, Azerbaijan, Greece, Bulgaria, Republic of Macedonia, Albania, Serbia, Bosnia, Croatia and the other Caucasian countries, and have now spread throughout China and Eastern Europe.
The Zurna is most likely the immediate predecessor of the European Shawm, and is related to the Chinese Suona still used today in weddings, temple and funeral music
This wind instrument is said to stimulate the spirit of battle and sometimes even to instigate aggression and war-like characteristics. The sound of zurna helps to reduce apathy, indifference, and increase the blood pressure.