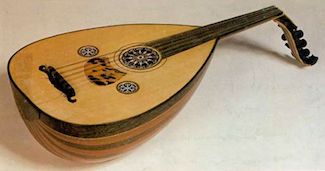 Ud
A stringed musical instrument prominent in medieval and modern Islāmic music. It was the parent of the European lute. The ʿūd has a deep, pear-shaped body; a fretless fingerboard; and a relatively shorter neck and somewhat less acutely bent-back pegbox than the European lute. The tuning pegs are set in the sides of the pegbox. The gut strings, plucked with a plectrum, are fastened to a tension (guitar-type) bridge on the instrument's belly.
According to Farabi, the Ud was invented by Lamech, the sixth grandson of Adam. The legend tells that the grieving Lamech hung the body of his dead son from a tree. The first Ud was inspired by the shape of his son's bleached skeleton.
Listening to the sound of ud (pronounced as "ood") was an excellent remedy against headache and melancholy, reducing muscle spasms and creating a strong calming action. The ud was one of the most widespread and favorite instruments in medieval Azerbaijan. It is related to the ancient Greek harp. Instruments, similar to the ud are depicted in ancient Egyptian frescos.