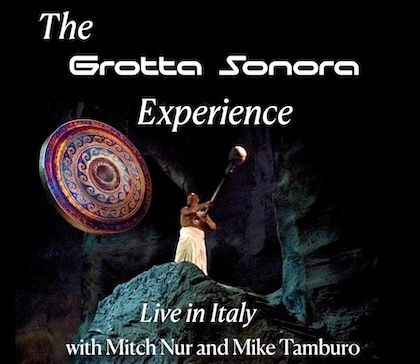 THE GROTTA SONORA EXPERIENCE
June 5, 2023 9am - June 11, 2023 12pm
What happens when you merge North America's oldest Gong Camp with the artistic talent of Grotta Sonora? A 'Gong experience' like no other on planet Earth!
Join us in Calcata, for a week of sonic adventure with those who are influencing present Gong culture and craft. Mike and Mitch were featured presenters at the Gong Summit and continue to accelerate Gong education through the 9ways Academia's Gong Camp. Madhava and Margherita brought their hand-crafted experimental musical instruments to the Gong Summit, and immediately elevated Gong Craft to an excited community of Gong enthusiasts. These 4 powerhouses are together again in the ancient Etruscan village in the Treja Valley, home of the Grotta Sonora 'sound cave.'
Workshops and sound performances will not only take place in the sound cave, but in and around Calcata in ancient amphitheater's and historic sites. A combination of adventure and Gong experience reserved for just 22 students!
Details are nearly complete, in essence we will be eating and sleeping in the small village and moving about this historic area creating photo opportunities with Gongs and elevating knowledge and skill set at the same time. Submit the coupon at this link: https://9ways.ticketleap.com/theexperience
Details will arrive soon in your email inbox with registration information.