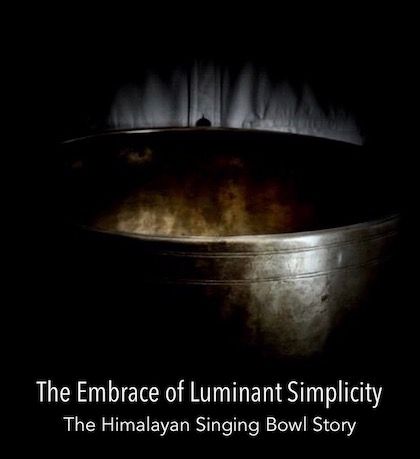 The Embrace of Luminant Simplicity • The Himalayan Singing Bowl Story
June 10, 2020 12pm - June 14, 2020 12pm
THIS PROGRAM WILL BE RESCHEDULED FOR 2021
With Mitch Nur, PhD and Taunya Rivera of My Second Breath and Special Guests Craig Shankster (UK), Stephanie Woods - the Singing Bowl Lady (US), Jennifer Campbell US), Frank DiCristina - the Singing Bowl Guy (US), Jossie Yohvh (MEX), and Ratsa Geshe Khenpo Tenzin Dargye (NPL).
This is NOT a 'sound healing' program - if you want to study that subject, review the 9ways Sonic Theology programs, or the Soundworkers Cookbook. This program addresses Himalayan Singing Bowls from the perspective of 'Subject' and 'Object'.
Dr. Mitch will show you, what he was shown from the Far East beginning in the early 1970's in the form of demonstrations and Oral Transmissions. He was given the name Men-ghak Rinchen by his Root Teacher which means - 'precious esoteric wisdom' after completing his Preliminary Practices (the same training given to monks in the monastery). He is a Drup Shen Pa or Long Life Master in the lineage of Tsewang Ridgzin. Regarded as a Nagpa (lay priest) by many in the Nyingma and Bönpo communities. Studies and Empowerments too many to mention. Regarded as an 'insider' by Tibetan and Nepalese academics. An ethnomusicologist who has studied indigenous sound tools across many transcultural mediums including shamanic conventions. He is one of North America's longest tenured sound researchers and teachers.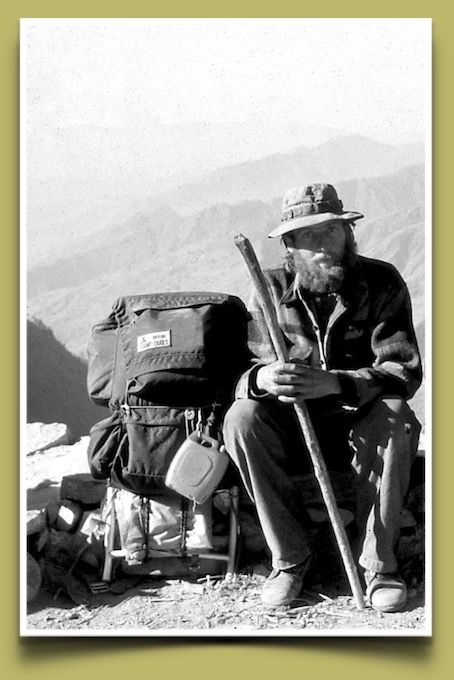 "Nearly 50 years ago I set off on an adventure, which would change the direction of my life. My interest in what soon was to become Tibetan Singing Bowls, began at the onset of the 1970's at a time when I and a few of my friends were the few who had heard of them. This is a time before the internet and in order to learn about something in a far off land, it required going there. My studies then, focused on what was termed Para-Psychology, including shamanic conventions and out of body experiences induced by trance and music. When I arrived in India I had a small knowledge base of the Vedic culture, but my philosophical interests were on Buddhism and the scant academic leaning books by Evans-Wentz, Govinda, David-Neal, Watts, Günther, etc. that were available to American readers at that time. I felt 'briefed', and entered Nepal with the intention to getting to the bottom of these things called Tibetan Singing Bowls. In about 3 weeks time after countless talks with artisans in the handicraft industry of Kathmandu, no one could lead me to a Tibetan Singing Bowl or anyone who knew of their existence. I found this very odd, what I did not know at that time, was how long it would take to discover some version of the truth about them; their history, use, manufacturing sites, purposes, etc. What unfolded over the years was great friendships, meetings with remarkable men, and insights into things reserved for persons of high degree."
"Now that I have put my research to paper after all these long years and listened and read all the experts, my story is a bit different. Possibly because I'm one of the few, if not the only researcher who has actually physically lived in the Himalayas and India, conducted Field Studies there, interviewed Lamas, artisans, shopkeepers, historians, shamans, and along the way picked up titles and names due to my personal studies in Bön and Buddhism with high Lamas and Tulku's. I'm not here to prove anybody wrong about their 'stories' about the Bowls, even though there's overwhelming misinformation concerning them; but to reveal what my research points to. It would be easy for me to say that aliens brought them here through a tunnel from Taos Pueblo to the Potala of Tibet, and that there is magic and secrets a foot. Everyone knows that Tibet is full of secrets and that the Bowls are one of them. A story told by profit motivated Singing Bowl merchants across the world for years. The amazing thing is that the Nepalese and Tibetans are starting to believe it."
This program approaches the Bowls from a much different direction, entirely evidence based research and first hand accounts. This is not a 'show' to sell you bowls, or an enticement that you will walk away with super powers. But an opportunity to see the truth through the smokescreen of mass marketing and false opinions. A chance to rise above the misinformation, and to feel perfumed with actual useful instruction. Space is limited, this is the only running of this program prior to publication.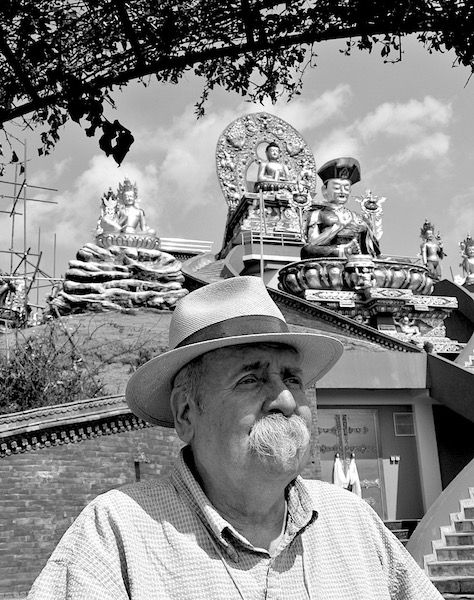 "I will layout historic and cultural evidence which should put to rest the 'mystery' surrounding these bronze bowls. Compelling evidence what they are, who was behind them, where they are important in relation to what we do with them now, how they wanted us to use them, and when they went from their original uses to New Age phenomena. Genuine research combined with specific illustrations, for example, I will offer a demonstration and protocol tying Vedic Alchemy and Ayurvedic medicine combined with sound therapy and transdermal absorption. Numerous examples and demonstrations will be offered and explained. This may be the most academic and most 'truthful' expose ever presented. I have a video showing how they are made, and a power-point so you can be certain about getting the information easily. I have also assembled a cross section of dedicated practitioners representing a large geographical swath, a knowledge base important for these times and the future as well. We are training the singing bowl practitioner of today, for tomorrow; it's time to move past old misguided concepts."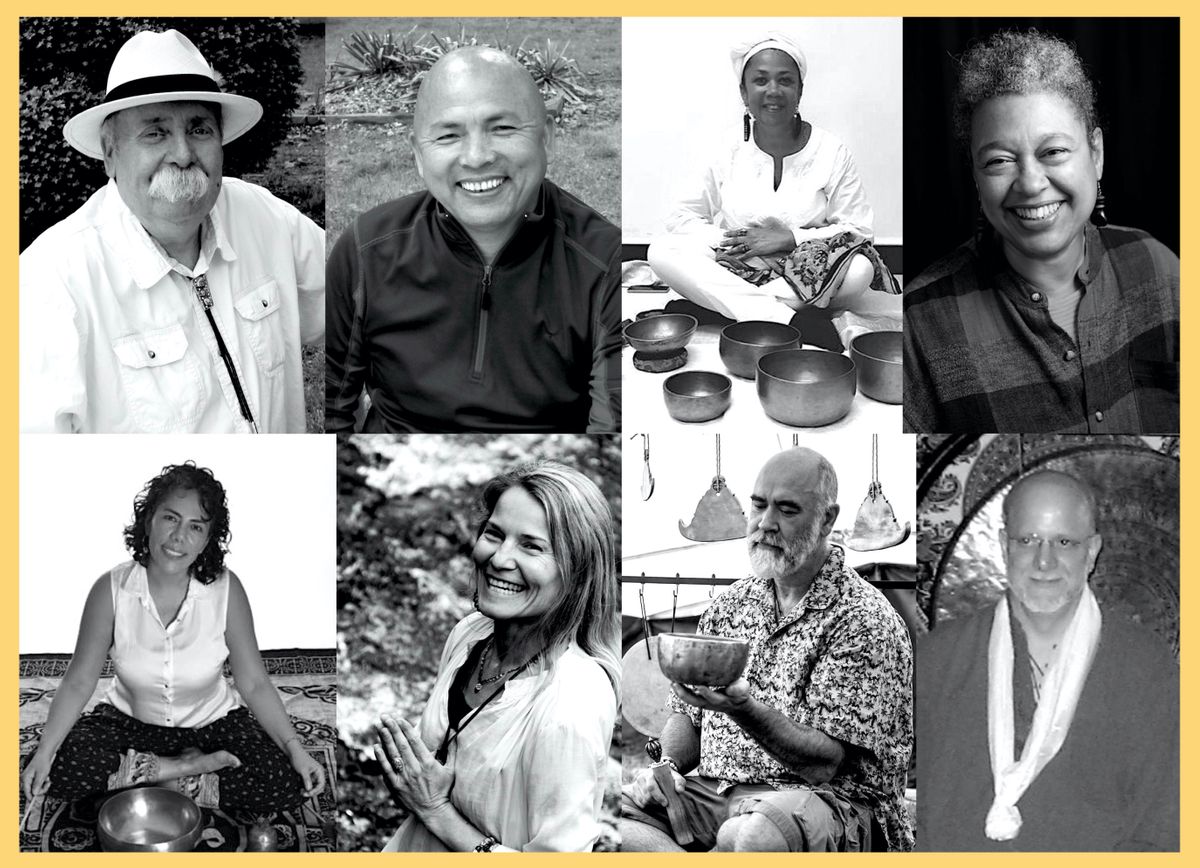 Dr. Mitch has brought together a very unique international cast to assist him in this groundbreaking program. These unique presenters will allow demonstrations to unfold, and offer a dynamic blend of ideas and insights combined for the first time - ever.
* Presently there are 2 speakers from Asia not confirmed. We cannot announce until they are VISA confirmed, 1 is from India, 1 is from Nepal. This would bring together an unprecedented 10 speakers.
These are confirmed:
Ratsa Geshe Khenpo Tenzin Dargye is the Abbot of a Bönpo monastery in Dhor Paten Nepal. His specialties are Medicines, Astrology, and Divination. Dr. Mitch has brought in Khenpo Dargye so students can see first hand, a Tibetan Lama working with a Singing Bowl, a rare glimpse of authentic methodology. This surely answers the question - "Do Lamas use them'?
Taunya Laya Rivera has a Masters of Science in Education, a member of the Sound Healers Association, and is the Founding Director of My Second Breath Inc. She has been vibrating the harmonics of her authentic Himalayan Singing Bowls for over 26 years. Her dream to travel and do this work to harmonize lives of the planet became a reality. Taunya has facilitated group harmonic meditation sessions, private treatments, and instruction classes in the US, Caribbean, Asia, South America, Central America. Taunya facilitates retreats in various locations and free meditation sessions in New York's Central Park. Her motto is, "Harmonize Your Essence, Renew Your Life". Known as "Mama T", was born into a family of natural musicians, teachers, and healers of African and Native American decent. She brings her heritage, education, spiritual practices, personal singing bowl techniques, and many years of study.
Stephanie Woods the Singing Bowl Lady lives in southern Massachusetts and enjoys giving public and private sound sessions all around the New England area. She and her bowls are currently working with Trauma Spa, a pilot program in Boston, offering mental health services in the form of self-care modalities to individuals diagnosed with PTSD, due to the murder of an immediate family member." LINK
Jossie Yohvh - is a sound practitioner from Mexico who will be assisting Dr. Mitch in a very unique demonstration. Her work with the Bowls goes far beyond the sound, and this will be her first opportunity to teach north of the border.
Jennifer Campbell a Holistic Health Practitioner, and Yoga Instructor who integrates sound into her life. She will bring her skill as a massage therapist into a 'first ever' demonstration with Dr. Mitch into an ancient practice that merges the body and spirit into one. This has never been shown before.
Craig Shankster lives in Machynlleth, a small market town in mid-Wales, UK; surrounded by lush green hills, ancient woodlands and some of the most beautiful sandy beaches in the UK, in this wonderful landscape Craig offers heart-centred, sound performances and 1-2-1 workshops to anyone seeking a deeper understanding of Himalayan Singing Bowls and other sacred-sounding instruments.
Craig could be described as an Harmonic Sound Practitioner; he has been collecting Singing Bowls since 1982 and he continues to expand his knowledge on the subject and travels to Nepal yearly where he has established solid relationships with the Singing Bowl establishment there. LINK
Frank DiCristina - the Singing Bowl Guy is based out of Minneapolis at the Center for the Performing Arts. His interest with sound began in the 1970's and in 2002 he started working with Himalayan Singing Bowls. Frank has studied Singing Bowls in Nepal, and he brings this enthusiasm to the table in his travels in the upper Midwest of the USA. LINK
SPACE IS LIMITED FOR THIS ONCE IN A LIFETIME EVENT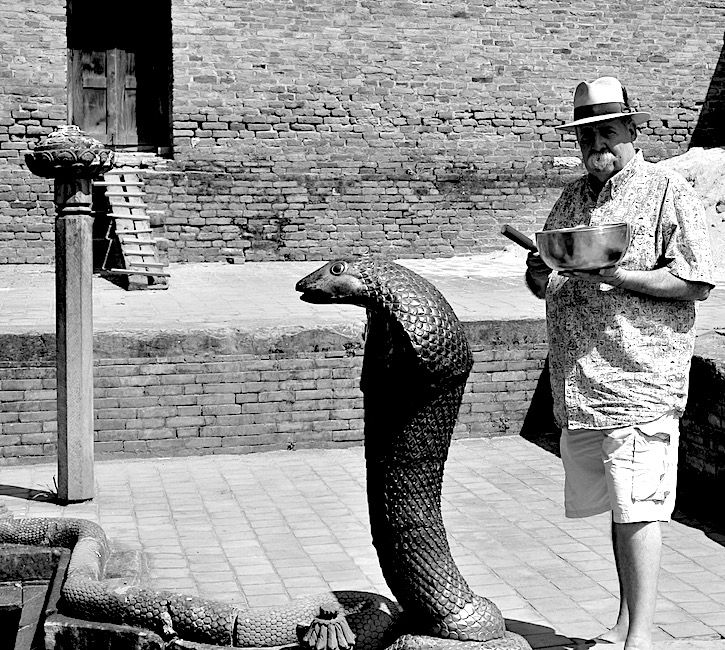 Dr. Mitch at the Naga Temple in Bhaktapur, Nepal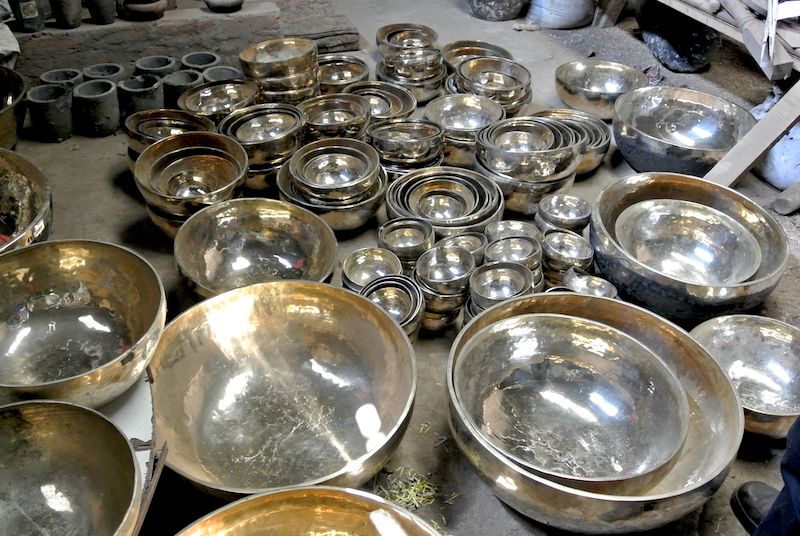 Inside a Singing Bowl factory outside Kathmandu, Nepal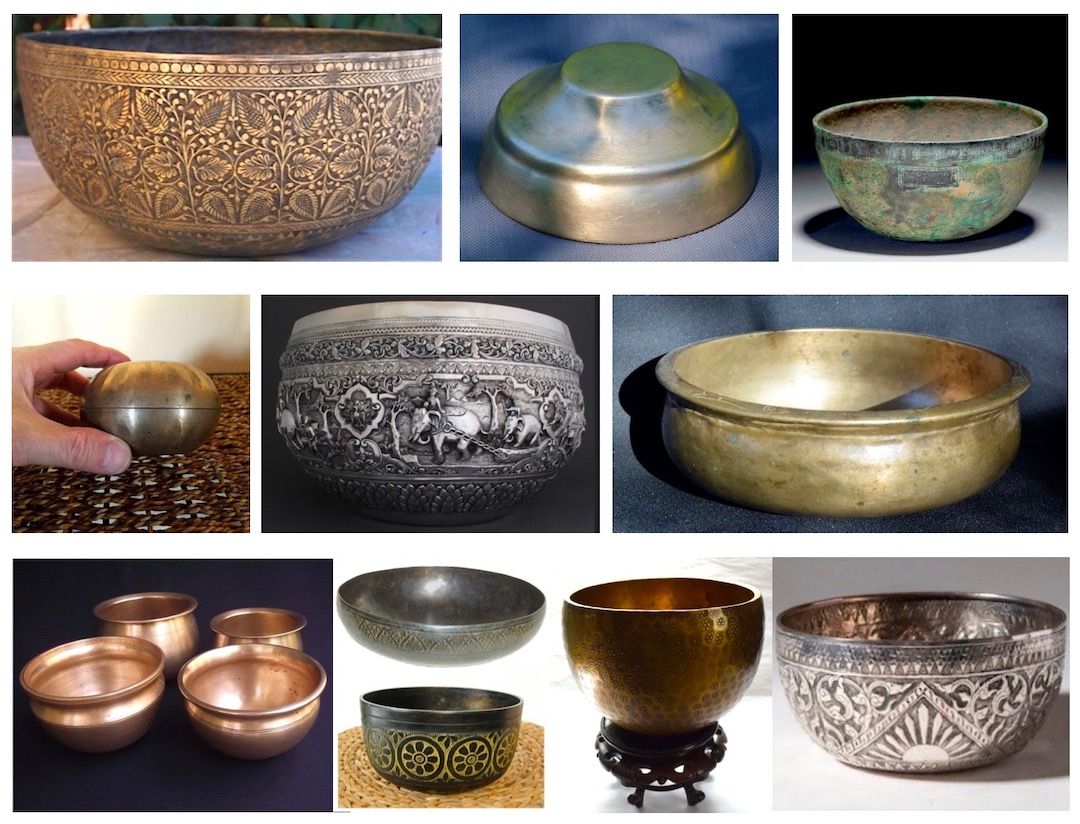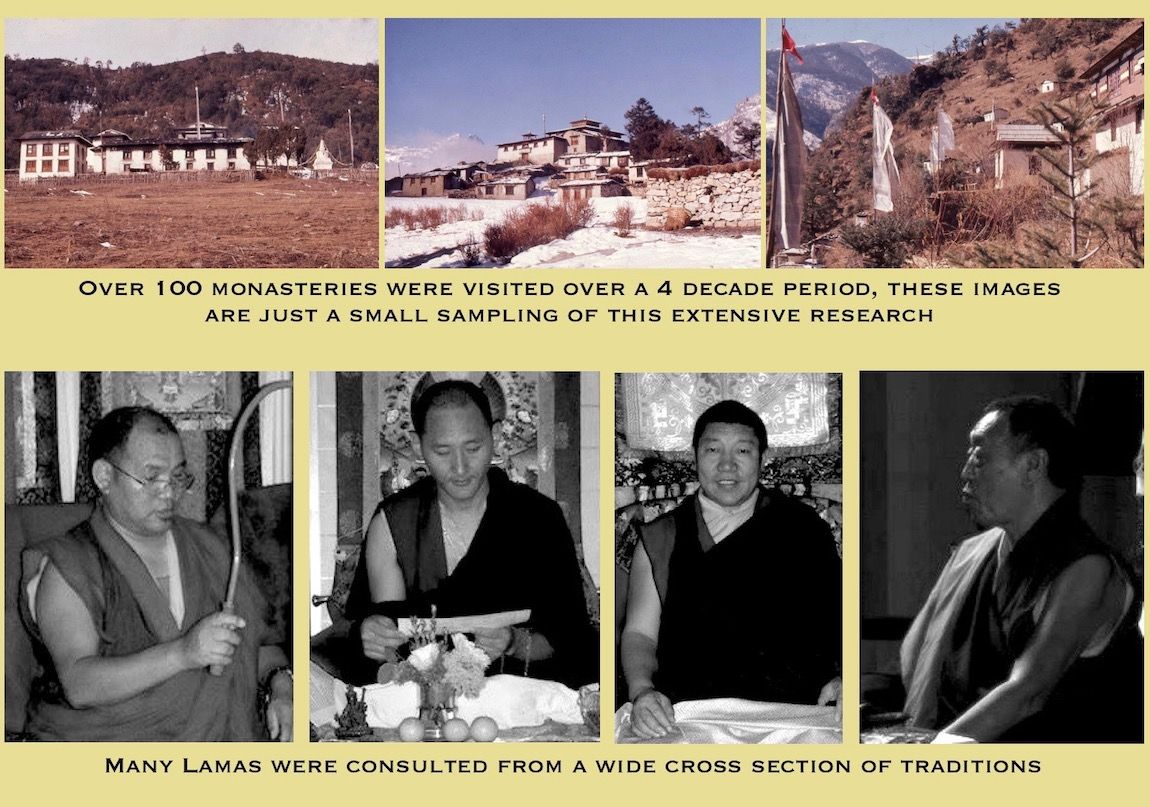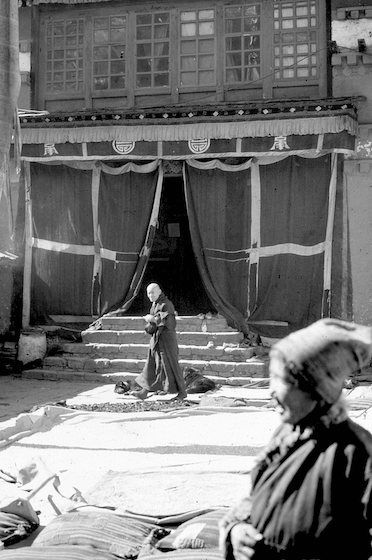 In the courtyard of Thubten Chöling Monastery, NE Nepal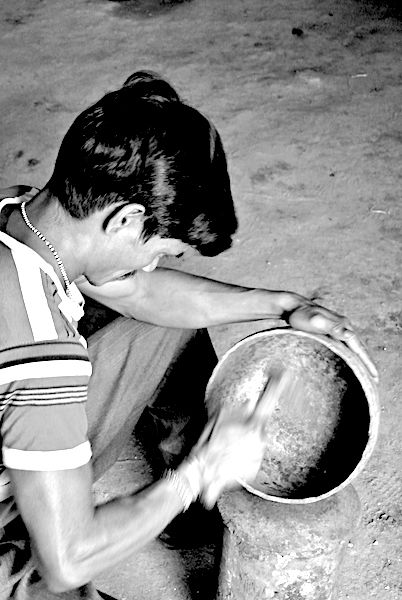 Hand Hammering in Nepal
Bowl manufacturing near Moradabad, India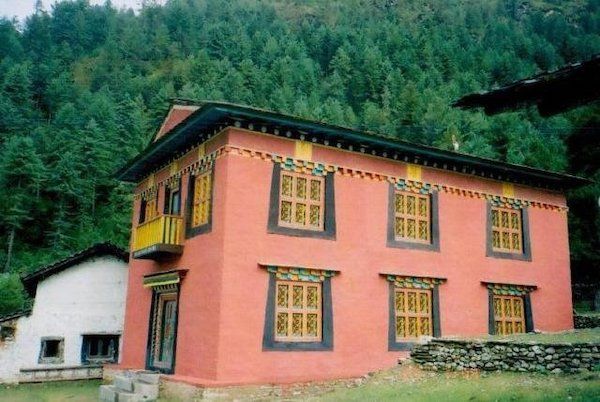 The first Tibetan Monastery built in exile, Dhorpatan Nepal
Located south of Mustang (Little Tibet), information for 'our story' was gathered here, and at other monasteries.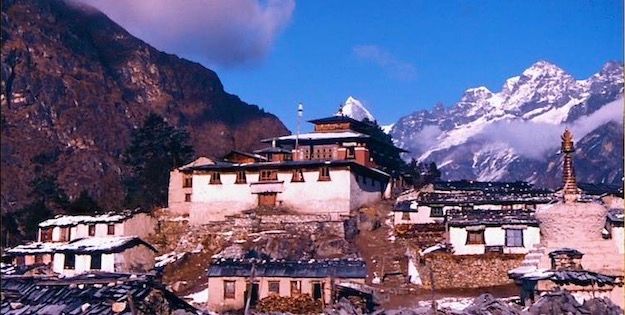 Tengboche Monastery near Mt. Everest
A Nyingma monastery at 12,687 feet before it was destroyed by fire and rebuilt in 1989. Dr. Mitch resided in the front center building during his research in the 1970's.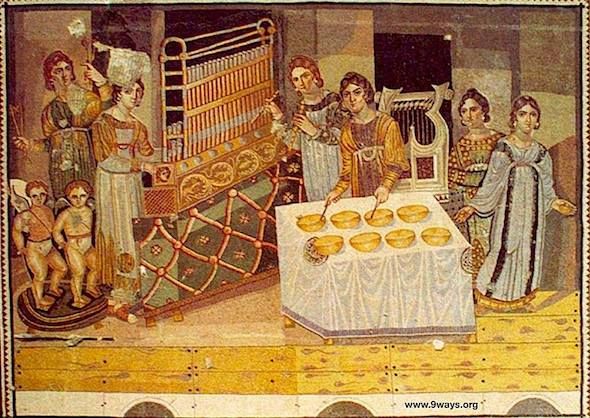 A tapestry fron Maryamin, Syria; does this play into our story?

Bati's
Dr.Mitch secured these from a village of metal-smiths with a heritage dating back to the 14th century. These were made for the upcoming program just 2 weeks ago.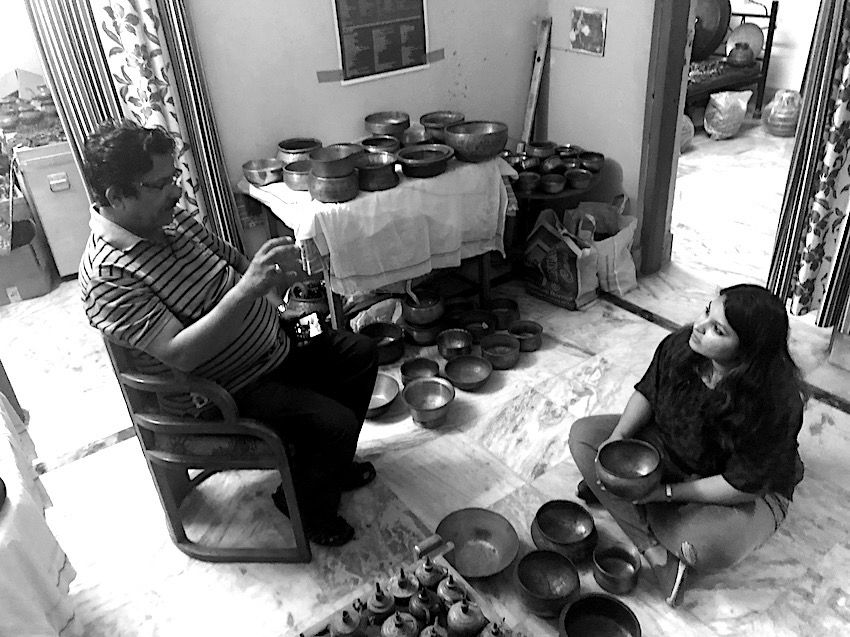 Field Sudies recently completed in February 2020
This is Mr. Sudarshan Sahu on the left, and our research assistant on the right, 2 weeks ago in Odisha India. Mr. Sahu has the largest collection of Singing Bowls in India, and has a museum devoted to Bell Metal or Kansa. Until 2 weeks ago, he did not have any knowledge of what he was collecting, was called a Singing Bowl and what it's use was in sound healing. Up to this point, he was calling his bowls by their village names (numerous) and many uses not performed by westerners at all. This Field Study report will be featured in the June program by our Indian assistant Priyanka Patel.