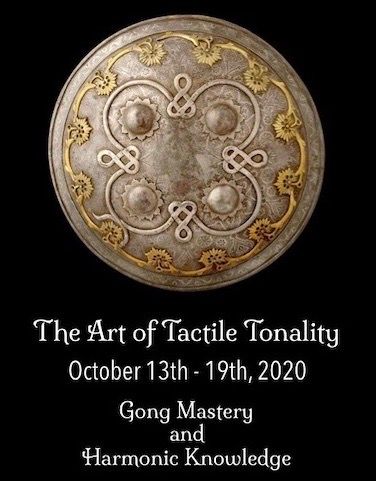 The Art of Tactile Tonality - Gong Mastery and Harmonic Knowledge
October 13, 2021 10am - October 19, 2021 2pm
Invitation Only Transmission • An exercise in Aspiration and Diligence, on top of the Right Attitude and Right Conduct. You cannot work with spiritual substances until YOU change. Students who have completed Sonic Theology and a Gong Camp are automatically eligible for this program. Everyone requires instructor approval.
This program replaces The Art of the Zildjin, in the sense of now we are working with Gongs over 40 inches as well as our Gongs. Which means you bring all your Gongs to this program, the instructors need to see you working with your own instruments. This Transmission combines Art of the Zildjin with an emphasis on working with Big Metal with more than one instructor.
➤ Art of Tactile Tonality is the 'inner' element of being a representative of the Gong. In this case, our Gong is seen as an organon.
This program is not focused on 'social identity' but professional distinctiveness, and serves to raise the bar on how someone is educated, and mentored on the Art of Gong. The final element of the training is the 'purification of intelligence' the removing of the darkness of ego. The Gong Aarti, is the Gong Practitioners symbolic offering, to the measureless tonality of being. Through this, the action of the GongMaster becomes the 'thread' weaving the rope that pulls them from 'inertia' into 'action', into 'quality' or 'lucidity'. This act, establishes the production of vibrant knowledge, and imprints the vast wisdom of the primordial nature of sound onto the Luminous Mind of the Gong practitioner.
Limited to just 7 new students! Small intimate learning and mentoring experience. This will be a 7 day event, and the combined prior studies, makes this a 225+ study hour program, far surpassing any program on the planet in regards to Gongs.