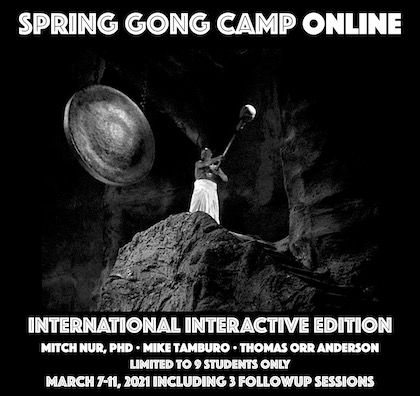 Spring Gong Camp ONLINE
March 7, 2021 9am - March 11, 2021 5pm
This 43 hour didactic approach with a small group of students with multiple world class instructors, featuring intimate breakout rooms is intended to elevate skill set through direct mentorship. An added element to this, is the followup sessions with these teachers, a holistic dimension to the overall learning process. This is a deep dive into Gong play including:
Rhythmic and Timing Interpretation
Single Stroke and Two Handed Stroke Combinations and Patterns
Positioning and Orientation to the Instrument
Science of Modal Patterns, Slip and Grip, Mallets and their Modes, and the Basic Physics of Sound with the Gong
Dynamics with Friction Mallets
Understanding Attack
Attention and Guided Playing
Putting Practice to the Forefront
Putting Gong Culture and Gong Craft into Perspective
This dynamic presentation is spearheaded by a faculty that needs no introduction and offers 'an academic umbrella combined with artistic enthusiasm' that has been lacking in online training.
Teaching Day Schedule: 9am EST to 5pm EST with breaks which includes beginning and ending each day in small rooms with the instructors.
Students will be using their own Gongs and mallets, and are required to have a soft marimba mallet in their collection and friction mallets, a cajon brush, Loopback and PC routing, headphones, and even a paper plate. This is a true interactive experience and intended to be educational rather than conversational. Don't delay, limited to just 9 students.