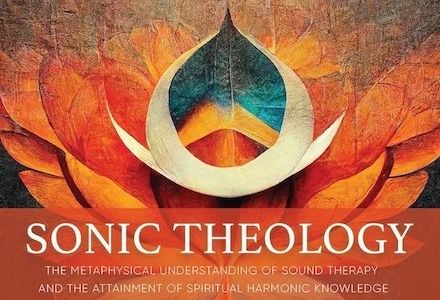 METAPHYSICS 2024
February 24 to March 4, 2024
SONIC THEOLOGY: The Metaphysical Understanding of Sound Therapy, and the Attainment of Spiritual Harmonic Knowledge / First Module of the Sound Therapy Certification of 9Ways Academia
Sonic Theology features an examination of Western, Mid Eastern, and Far Eastern theoretical approaches to Sound Therapy. A 170,000 year analysis of the footprints of Sound Therapy, and beyond.
Sonic Theology is everything missing from all sound healing programs presented in the West, and may very well be the most thorough historical investigation on the subject ever presented.
It is also the only program ever created that offers a re-examination of the history of Sound from a matrifocal perspective, showing the limitations of a biased patriarcal model of history on our understanding of the role of Sound, Trance and Dance in healing, spirituality, philosophy and the very basis of our human culture.
Don't be fooled into thinking that the western model of Sound Therapy is important, because it is based on much older systems outside the Greek model. Discover what Pythagoras brought to Crotana from India, why is the House of Wisdom important, follow the thread from Gobustan to Anatolia, and discover ancient systems that are useful today. While Europe was under the grips of the Dark Ages, the Golden Chain of the Pythagorean philosophers extended into central Asia. Entire secretive organizations flourished who understood the curative ability that sound and music has on us.
This program explains everything, to the point, that you will feel you have previously been taught nothing. This story begins in pre-"his"tory, and looks at matriarchal and patriarchal lines. Unless YOU change, YOU cannot change others.
This is a serious academic examination, that has been cultivated over 5 decades of research, field studies, and direct experience. This program is limited to just 11 new students to insure an intimate learning environment and proper transmission.
with Mitch Nur, Mallika Paritosh, Alexandre Tannous, Zeny Bagatsing Ogrisseg, Thomas Orr Anderson, Howard Barry Schatz,
This esteemed faculty will offer clear instructions, and insights from over 200 years of personal research and experience. Today, many sound healing trainings are simply instrument lessons, how to play this or that; and tell you nothing about the why, when, or what sound is required at any given moment.
✦ Students can be refused entry into this program for any reason. This is the essential information missing from most sound programs presented today, and this in depth investigation unlocks the lineages, and creates an accurate timeline of Sound Therapy globally.
This program is only open to 11 new students at a time, and is offered 'once' in a calendar year.
Want to join us in 2024 - click HERE to be put on the contact list for registration