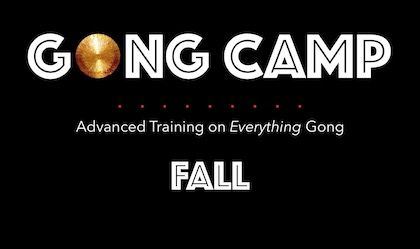 GONG CAMP 2022 • Perkasie, PA
October 2, 2022 10am - October 11, 2022 5pm
LIVE - IN PERSON - Transmission with Mike Tamburo and Mitch Nur, PhD
WE ARE NOW ON A WAITLIST
Special Guests - Steve Hubback, Phil McNamara, Don Conreaux, Thomas Orr Anderson, performance guests Ed Cleveland, Lois Harrison, and others to be announced soon
* Many of these artists were featured speakers at the legendary Gong Summit and Ed and Lois performed there.
We will explore Chau Gongs, Feng Gongs, Heng Gongs, Meinl Gongs, Paiste Gongs, original Zildjin Gongs, Ufip and Bosphorus Gongs, Burma Bells, Ascending and Descending Opera Gongs, Bao Gongs, Xiang Jia Gongs, Jing Gongs, Bertoia Studio, Matt Nolan, Ryan Shelledy, Shaun Aceto, Steve Hubback, Grotta Sonora, Nipple Gongs, Floor Gongs, Cloud Gongs, Gongs from Indonesia, Turkey, Italy, Thailand, Japan, Korea, Vietnam, and rare Gongs from Nepal. Big Gongs to tiny Moon Gongs and glass Gongs. Every type and style. This is the world's most complete Gong program (substantiation) and advanced training (progressive) syllabus PERIOD. One could say, 'thorough and complete' in comparison to others.
The Gong is one of man's oldest Ceremonial, and Ritual instruments, and is used in yoga, sound meditation, and vibrational therapy from the distant past to present. The Gong is an ideal tool for stress reduction, stimulation of the glandular system, and as a facilitator to break up emotional blockages. This training program is meant to take you through the world of the Gong which makes this an ideal course of study for those who own Gongs, or are thinking of purchasing one. Aspects of this program will cover Gong styles and types, playing implements, stands, playing techniques including rub mallets, and more.
This program looks at all the ways the Gong can be used for Sound Therapy, Meditation, Yoga, live performance and personal practice. An examination of new gong products will also be reviewed. Ideal for all levels of experience. The program will showcase sound baths, and numerous demonstrations, meant to elevate your awareness in using this instrument in many applications.
Hosted by Mitch Nur, PhD and Mike Tamburo. Mitch has been playing Gongs for nearly 5 decades and has a personal collection of over 50 hanging Gongs, and hundreds of resting Gongs from all the world's Gong cultures. He blends the science with the experiential which makes this a dynamic learning experience. Mike is one of hardest working Gong performance artist's in North America, he brings over 2 decades of Gong Craft as a musician to the table; and between the 2 of them, students will encounter a mentoring program that increases awareness, ability, and confidence.
The Art of the Gong is connected through centuries of old traditions and sacred tonal sound-smiths.
The basic structure of this syllabus covers many parts, starting with gong stands, mallets and assorted striking implements, exercises on all types of gongs, exploring the sonic universe from drones to attacks, the essential use of sound and no sound. The Gong is a very complex instrument and developing a useful skill set, combined with deep listening can lead to extraordinary acoustics. Sprinkled throughout all this practice and play time, is dialogue on the philosophy of Gong play, power points, and evening live gong performance.
This course examines the tonal alchemy and metaphysical approaches with an emphasis on how to use the Gong's frequency domains as a psycho-acoustical entry point for shifting consciousness. The Gong technician who can reach a place of non-conceptuality and locality can use the Gong as a wheelhouse to alter Time and Space. Included in the Gong Camp is a 'science of metals' workshop, which is an examination of the physics of the Gong, including some wave theory and other insights that explain 'why and how' the Gong is what it is.
The Gong Camp is a 10 day retreat including a field trip to the "Sound Barn" of the Bertoia Studio Click Here and Here. Steve Weiss Music is the official supplier of the Gong Camp, and will be bringing Gongs to Gong Camp. All Steve Weiss Gongs are hand selected in China, what is left or rejected, is sold to the other Gong suppliers in the world. Here's your chance to hand select, from an already hand selected inventory! Steve Weiss Music carries every manufacturer including Matt Nolan, and the German manufacturers.
Our Gong Camp location is a private yoga studio close to Lake Nockamixon, in scenic upper Bucks County, near Perkasie, PA. There is a limited amount of shared apartments onsite, that are fully furnished, including bedding. The apartments are a wonderful alternative to staying in a hotel. There is also a local hostel on the opposite side of the lake, which is a very cost effective option for lodging.
You do not need to own a Gong or bring a Gong, we will have Gongs set up for everyone to play, representing all the Gong cultures of the world. This program does not focus on one type of Gong, like so many other programs do. We are not judging one type of Gong over another, nor are we teaching you a particular philosophy. We are teaching you solely about Gongs, showcasing all the different types, styles, and manufacturers. You are then the judge, to what type of Gong sounds good to you, without any bias or endorsement from any maker. You will leave this program knowledgeable, empowered, elevated, and confident. Something else to take into consideration, we ARE ONLY teaching you the Gong, without mixing in any other instruments, taking away valuable time, to learn the most about the Gong. If you are interested in using the Gong in Sound Therapy, click on the upper toolbar of this page, and click on 'Sound Therapy Trainings'.
We also do not teach a specific philosophical jargon in regards to the Gong. The Gong is it's own philosophy, which is shared by many philosophical traditions in the world, we are solely teaching you about one of the most powerful sound instruments in the world, which is why it has been adopted by many of the world's spiritual traditions. No one spiritual tradition can claim this instrument. Because the Gong is capable of erasing all conceptions, it can also transform all conditions.
If you own a Gong you are encouraged to bring it to the Gong Camp (students will be advised NOT to play your Gong without your permission), but Gongs will be supplied for student use throughout the program. This Gong program supplies Gongs from all over the world for student use. You can also bring your own mallets, but mallets are provided for student use.
Students can be refused entry into the program for any reason by the instructors, and can be dismissed from the program for any inappropriate behavior.
Program Fee does not include lodging, limited on site lodging is available in furnished shared apartments @ HiLight.
THE 2022 GONG CAMP is sold out and on a waitlist
❖ Please Read: 9ways Academia Refund Policy
🔴 RESERVATION COUPON Click Here