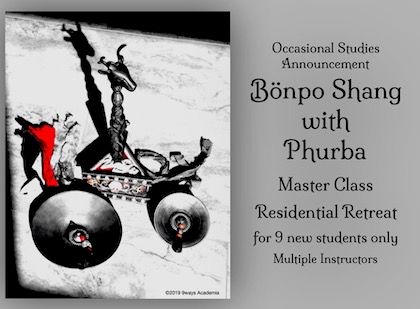 Bonpo Shang with Phurba • Master Class Residential Retreat • Perkasie, PA
THIS PROGRAM REQUIRES NEW SCHEDULING - STUDENTS NEED TO REVISE THEIR SCHEDULES AND TRAVEL PLANS.
Overview: Portions of this event will be silent, and out of doors. Traditional Bonpo practices will be observed, as well as shamanic elements. Esoteric subjects will be examined including an introduction to Milam trul khor, Nying Po Nam Soom, and protection practices. Traditional guidelines will be followed, and explored.
Innerview: A Deep Dive with lots of practice time, expect to be stretched to the limit.
The Bonpo Shang is one of the world's oldest shamanic Sound Tools, and quite possibly the oldest metal sound tool, predating the gong. It's history dates back to the ancient kingdom of ZhangZhung, and is mentioned in writings attributed to the founder of Bon, Tonpa Shenrab. The instrument existed at the time of Lord Shenrab ( 18,000BC according to some historians ), and may be considerably older according to sources in the Bon community. The instrument is found in other shamanic traditions in the Himalayas, Tibet, Bhutan, Yunnan, Tuva, Mongolia,and as far north as the Buriyat Republic.
This is the most comprehensive training program on this instrument in the world today. The program covers the uses and knowledge contained with the Bonpo culture, and then extends further into the shamanic uses by the lha-pa, dpa-mo, and lha-beb priests; as well as the uses by the Bomba, Paju and Naxi. We will explore early Tibetan history and the belief systems surrounding the Drala and the Werma, as well as Naga.
The Shang is an incredible sound tool in the hands of someone who has been trained and tutored in the ways of this instrument. Do not confuse this program with any other program in the world today.
The Phurba or Kila will be examined from multiple viewpoints including Nyingma Dorje Phurba practice (instructor was initiated into Dorje Phurba by a reincarnation of Dorje Lingpa in the Adzom Drukpa lineage), and Himalayan shamanic conventions, culled from field studies in Nepal (Jankhri & Rai).