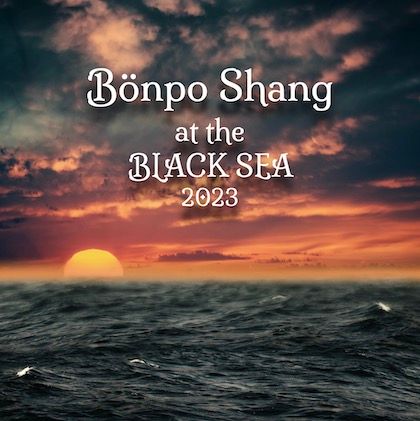 Bonpo Shang Transmission and Initiation at the Black Sea
September/October 2023 at the Black Sea, Turkey
"The Bonpo Shang is one of the world's oldest ritual Sound Tools, and quite possibly the oldest metal sound tool, dating back to the pre-Imperial Period of the ancient kingdom of ZhangZhung, and is mentioned in writings attributed to the founder of Bon, Tonpa Shenrab. The instrument existed at the time of Lord Shenrab (16,000BC according to some historians ), and may be considerably older according to sources in the Bon community. The instrument is found in other shamanic traditions in the Himalayas, Tibet, Bhutan, Yunnan, Tuva, Mongolia,and as far north as the Buriyat Republic."
Innerview: A Deep Dive with lots of practice time, expect to be stretched to the limit. Classes begin at 4:30am with an authentic practice based upon research, study, and interviews with nearly 3 dozen Lamas and Throne Holders. Dr. Mitch's Root Teacher was Tantric Bon, meditation with the 33rd Menri Gyalwa (including Powa), Sutra studies with numerous Dzogchen teachers, Long Life Initiation and Empowerment (awarded the title of Drup Shen Pa), Powa Initiation, Empowerment and Result with the Abbot of Osel Samten Ling.
Outerview: This is the most comprehensive training program on this instrument in the world today. The program covers the uses and knowledge contained with the Bonpo culture, and then extends further into the shamanic uses by the lha-pa, dpa-mo, and lha-beb priests; as well as the uses by the Bomba, Paju and Naxi.
We will explore pre-Tibetan history and the belief systems surrounding the Drala and the Werma, as well as Naga. These ancient constructs will become the Focal Plane as we navigate a esoteric Timescape with traditional practice protocols from the period of the Shen.
A short practice will be introduced by Mitch Nur, PhD based on 'traditional Bon practices,' these instructions assist in the 'pointing of the mind' or the 'leaning in' to working with this instrument. Students are required to engage this practice as well as this Transmission with a 'fire in the heart.' Research for this program contains elements from the Northern Treasury or mDo and Po Ti texts. Morning practice is led by Umzey Zeny Bagatsing Ogrisseg and daily Skills Instruction led by Nancy Aleo.
The Shang is an incredible sound tool in the hands of someone who has been trained and tutored in the ways of this instrument. This instrument has a genuine text which has been discovered in 3 different regions of Tibet. It 'clearly' states that the 'purpose' of this sound tool, was to heal, which makes this the oldest and only sound tool with the stated purpose of "healing," according to historical records.
From Mitch Nur, PhD: "The "historical ground" for this Transmission is examined through the eyes of the Shen; which dates it prior to Shen Bon and the Yungdrung Bon periods. At the time of the historical Buddha in this pre Imperial period, the Shang was already in existence according to Bon historical records. To present this instrument accurately one must be tasked with extensive research into some of the oldest philosophical texts in Asia dating to at least 16,000BC. In this case, we are focused on the Northern Treasury texts, and specifically the Po Ti. For reference, today's Yungdrung Bon is focused on the Southern Treasury presentation, and the Shang becomes a cymbal to mark a passage, rather than its intended use of being used by only the 'knowledge holders' for the purpose of healing. Numerous texts address how they are made and used, that have been discovered in at least three different locations around Tibet. Today they are used by spirit mediums and indigenous priests from southwest China, across the Tarim Basin to the Pamir's. Not only is this a historical adventure into lost lands, but thrusts the student into ancient indigenous practices, performed by studies into the divine Feminine being practiced by a pre Buddhist tradition, long long ago. The purpose of the Shang, as an upturned flat bell whose ring could be heard for 10,000 years, was to remove obstacles, heal the earth and those humans afflicted with illness and disease, and to expel the oath breakers and apostates who only bring suffering through their false understanding of doctrine. I have added a complete spiritual practice based upon authentic texts, that is intended to act as a fragrance of being in ancient times. Some of the oldest mantras associated in this ancient matriarchal system are strung like a necklace in order to bring you face to face with the oldest sound healing instrument and how to use it like they did thousands of years ago."