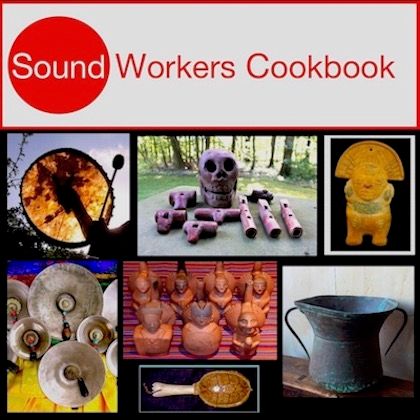 Soundworkers Cookbook with Mitch Nur, PhD, Sister Coni Lopez, and other guests • Methuen, MA
October 26, 2019 9am - October 27, 2019 5pm
This program will teach tenets of working with Sound in a therapeutic approach through the use of the Bonpo Shang, Shamanic Drumming, Rattles, Peruvian Shamanic Whistling Vessels, Aztec shaman whistles and Death Whistle, Otag Water Vessel, and more. This program is hands on with museum quality pieces serving as teaching aids. This program has 3 instructors.
9ways is currently focused on training the Sound Worker of tomorrow. If you desire to rise above the mundane, and wish to tread in the footsteps of those that go about seeking the aim or purpose of Wisdom, give serious attention to our programs.
The enormous popularity of working with Sound has taken the term 'sound healing' mainstream, and a day does not go by where people are not talking about sound immersions, gong baths, kirtans, and a host of sound healing events promoted on social media. With this popularity comes interest, and with interest comes the responsibility of gaining accurate and useful information in becoming proficient in the use of sound tools, developing an effective skilll-set, and knowing how to assess and demonstrate proficiency; to be perfumed with the cultural Wisdom and traditional uses.
This hands on approach is necessary in developing confidence, and learning how the cultures worked with these sound tools in a traditional manner, rounds out an effective learning process that will propel you in grasping the subject material. High academic standards are critical, and being mentored by experienced sound workers is the best way to start training in a serious manner.
" You must accept the Truth from whatever source it comes" . . . Maimonides
Each sound tool is examined, with attention to cultural and historical uses, to the degree of being knowledgeable and proficient with it. Small class size insures mentoring opportunities. Instruction is given in clear, easy to understand dialog with an emphasis on making sure everyone 'gets it'. Learn therapeutic approaches to working with these sound tools.
The Sound Workers Cookbook is a series of weekend events that covers the instruments of a successful Sound Worker, popular as well as little known, or obscure sound tools are featured. This program was developed by 9ways Senior Lecturer Mitch Nur, PhD a member of the Society for Ethnomusicology, Director of Indigenous Studies for the 9ways Academia;, to serve as both a scholarly standard and professional one as well. Take your skills as a sound healer or worker to another level.