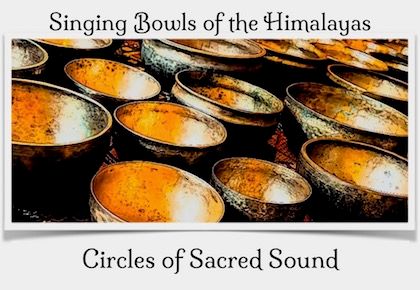 Singing Bowls of the Himalayas: Circles of Sacred Sound with Mitch Nur, PhD • Methuen, MA
July 20, 2019 9:30am - July 21, 2019 5pm
Singing Bowls of the Himalayas: Circles of Sacred Sound is a foundational examination into one of the most widely used sound tools in meditation, sound healing, mindfulness techniques and personal transformation. Their popularity is at an all time high, people draw deep connections with these instruments, but finding accurate information is a daunting task, much less finding a mentoring program that can create progressive skill sets enabling one to sink deep roots into the experience of working with them. Students are encouraged to bring their own bowls, or ones will be provided for student use. The focus of this workshop is built upon these preliminary steps:
• Selecting and evaluating Singing Bowls, in order to make the best buying decision so your not wasting money on Singing Bowls you lose interest in. This includes learning how the people of the Himalayas evaluate and choose them, and what types of Bowls are the most effective in western methods of sound therapy. Included in this aspect of the program is a video from Mitch's most recent field studies in Nepal, showing how they are made from beginning to end.
• Exploring the cultural myths, historical background, and western misinterpretations, including how do the cultures of the Himalayas actually use them in their traditional ways.
• Playing them and various demonstrated techniques to increase everyone's learning curve to make them most expressive. Striking implements are very important and seldom discussed or shared. Changing your striking technique and implement can completely change the sound. Instead of buying more bowls to make more sound, why not select implements that can extend the range of your bowls, thereby saving you money, and getting the most from what you already own. Become more proficient and confident in playing them.
• Share and learn from one of North America's leading Sound Therapy academics! Mitch was one of the first westerners to academically investigate them in the Himalayas, and is regarded as an 'insider' by Tibetan and Nepalese scholars. He will bring over 4 decades of experience to this program, offering insights you will find in no books or other similar programs. Combining the scholastic with rich Himalayan folktales about them, and stories from his extended living periods in Nepal, and over a hundred interviews with Buddhist and Bonpo Lamas including shamanic rituals that incorporate them, your view of Singing Bowls will never be the same.
This program will run from 9:30am to 5pm on Saturday and Sunday, A 90 minute midday break is included.
About the presenter: Mitch Nur, PhD is regarded as the leading Western expert on the Singing Bowls, and other ritual and ceremonial sound tools of the Himalayan cultures including their ritual items. He has been an assistant to visiting Tibetan Lamas for over 3 decades, and has been initiated into nearly 100 practices. He is the Senior Lecturer for the 9ways Academia, a private Sound Therapy lab in Pennsylvania that offers the only college level sound curriculum in the USA. He teaches Master Classes on Singing Bowls, Gongs, and the Bonpo Shang, and over 100 other instruments; and is an international speaker at Sound and Music Therapy conferences throughout the world. Mitch is a monthly contributor to the UK Sound Forum and the Sound Healing Forum here in the USA.
➤ Mitch will also show a video of how they are actually handmade from beginning to end in an exclusive video he shot in 2014.
➤ You Tube Video about this program
Circles of Wisdom • 386 Merrimack Street, Methuen, MA 01844 • 978-474-8010